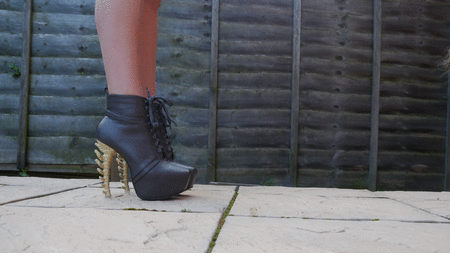 Ooo look at me all makin' schmancy gifs
A couple of weeks ago I ordered 2 pairs of shoes from ebay, I'm still eagerly awaiting the second pair as they both came from China (woo for cheap imports!) but I wanted to show you all the latest addition to my slightly unusual shoe collection! First off, they won't be to everyone's taste but they have a spine heel! A HEEL THAT LOOKS LIKE A SPINE BONE! (pretty sure that's not the technical term Ellen) They're perfect for the A/W grunge trend we always see and I like making a statement with my shoes - I got the grey pair because I wanted some ankle boots I could wear with lighter coloured or blue jeans, having said that the black pair of these are awesome and would look so cool with black jeans and disco pants! Surprisingly they're quite comfortable and look waaay more expensive than they were! Overall, I laaarrvee them and I'm super excited to play dress up with them tomorrow! Not that I have homework to do or anything...
I hope you're having a wonderful week!
Love Ellen xx